The Best Mason
Contractor Near Me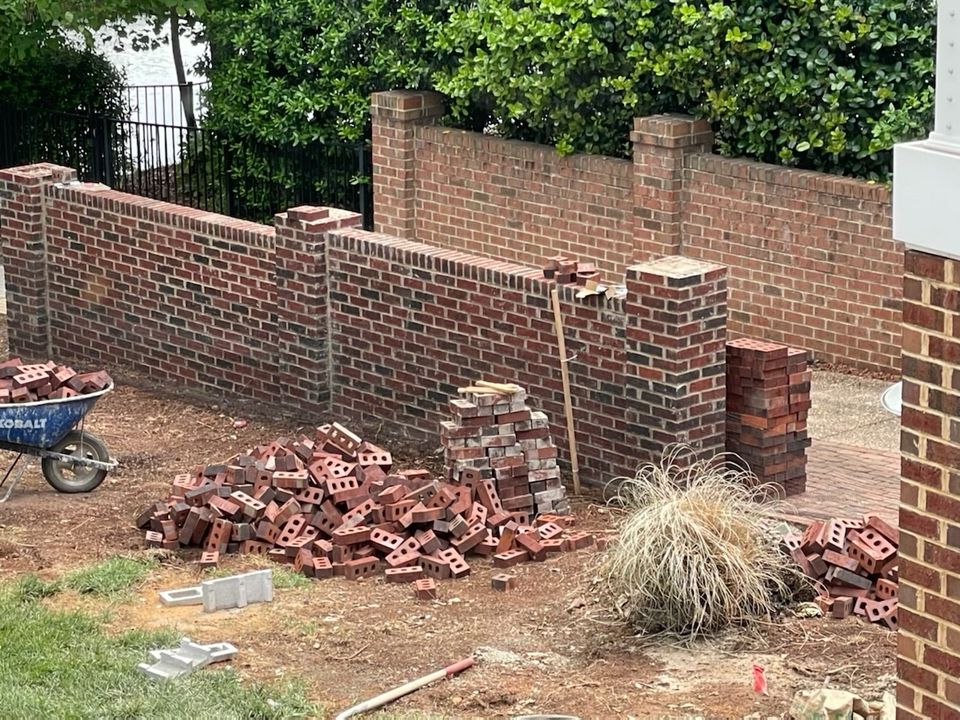 The Art Of Stone Work
Stone, brick and concrete work is all around us. The demand for high quality masonry contractors around Lake Norman has never been greater. The list of services that fall under masonry services is large. 
- Outdoor Kitchens & Grills
- Fireplaces, Chimney & Fire Pits
- Brickwork, Stonework & Pavers
- Patio & Masonry Decks
- Decorative Sitting & Retaining Walls
- Columns & Entrances
- Stairs, Steps & Stoops
The creations that can be made from natural stones, manufactured stone, bricks and mortar have the ability to be amazing looking and very useful. This is a direct result of the design work and the masons attention to detail. The quality of workmanship can very by a lot. If you are looking for cheap masons, there is a good chance that what you get is what you pay for. They talented staff at Lake Norman Hardscape have complete outstanding work in Huntersville, Davidson, Cornelius, Mooresville, and Denver North Carolina. You can count on us to help you design and complete your masonry project. 
Masonry Materials
Brick and Block
Brick is a very popular choice for hardscaping projects because it's strong and extremely durable. Most brick used in construction work is manufactured from clay, sand, and lime. Brick can bring a rustic feel for your design. If you're looking for contractors in Huntersville that provide brick and block construction, we are the company for you.
Concrete
Concrete is a popular material for use in masonry projects. Concrete is a mixture of stone, sand, gravels and cement. It can be cast in almost any form making it a highly versatile material which offers a wide array of design options.  We work hard to deliver quality service within your budget.
Stone
Stone is one of the oldest building materials used. It's also a widely popular choice for hardscaping projects because it's strong, durable, and beautiful. These are just some of the reasons why stone walls and pathways are so popular. We offer various types of installation including dry stack stone masonry process, cut stone veneer, stone steps and patios.
Spice up your outdoor entertaining with our outdoor kitchens and grill enclosures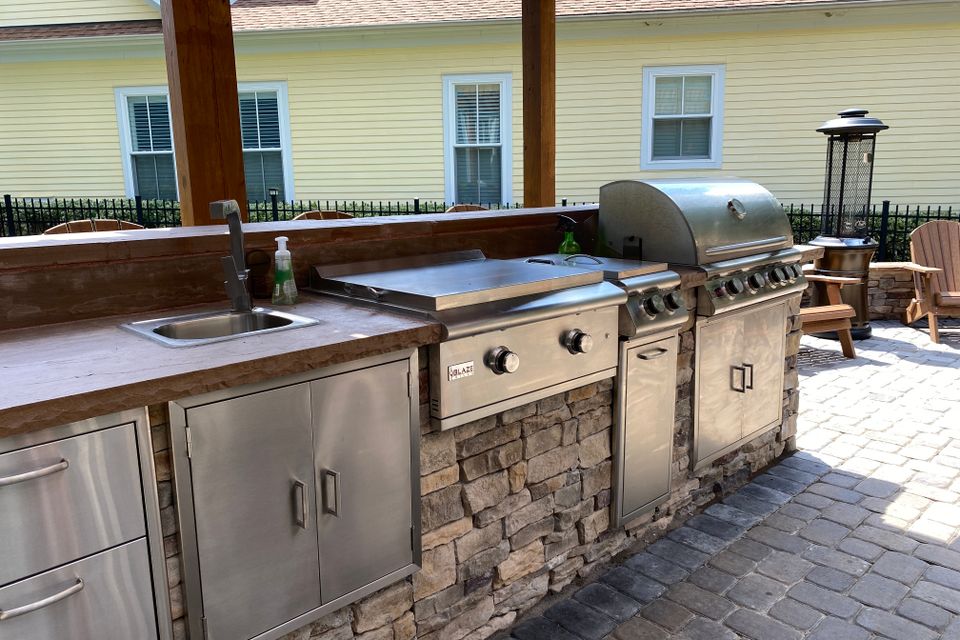 Outdoor Kitchens are rapidly becoming one of the most popular components of an outdoor living space around Lake Norman. From basic grill islands and enclosures to elaborate gourmet kitchens constructed in all types of masonry (stone, brick, block) as well as the use of other masonry products like stucco and a variety of tiles, Travertine, slate – Outdoor Kitchens, Grill Enclosures and outdoor kitchen islands are a fantastic addition to your masonry, stone, brick hardscape, landscape, stonescape and home improvement. 
Fireplaces, Chimneys & Fire Pits

are the

 

focal point of your hardscape

 

which produce the WOW effect!
Custom Outdoor and Indoor Fireplaces and Chimneys have been growing in their desire for some time. Are masonry team will design, create and construct your very own outdoor chimney, outdoor fireplace or fire pit using a variety of materials dependent on your existing hardscape and landscape or a complete new hardscape, stonescape, landscape fire feature into its theme. With the large supply of different types of stone – natural stone or synthetic stone along with brick, stucco, adobe as well as other natural products we will create a custom design and install for you. A wonderful and enjoyable addition to your outdoor living , allow Lake Norman Hardscape to provide you with a turnkey quote for the best in custom outdoor fire feature.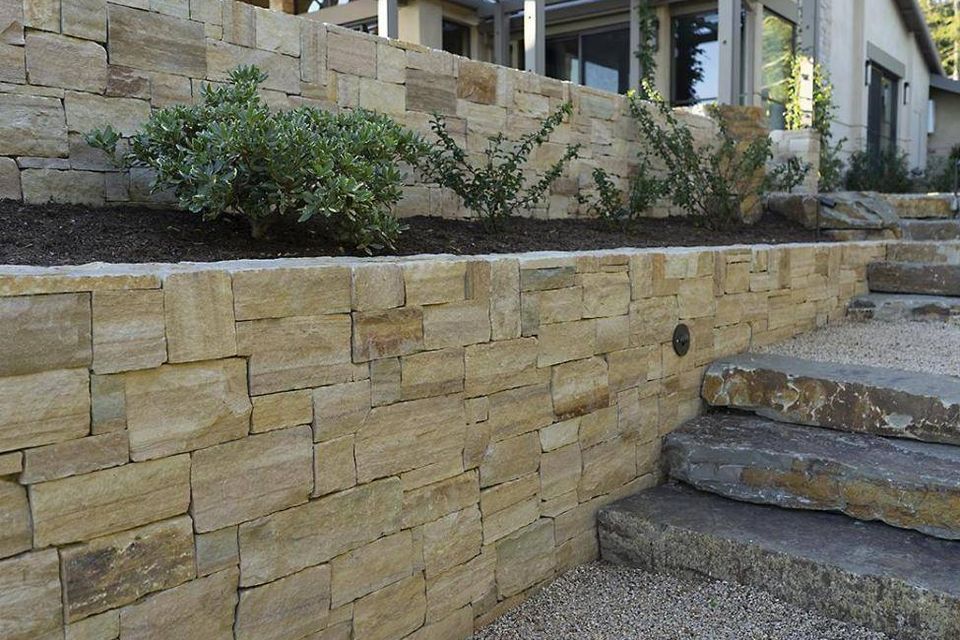 Decorative Retaining Wall
Besides their functionality, decorative walls and retaining walls can offer beauty and much more outdoor living space. Spruce up your home and property with custom designed stone or brick masonry retaining walls! Lake Norman Hardscapes adheres to strict construction methods to provide structural stability to these types of walls. With true masonry walls, we construct concrete footings along with steel reinforcement, both horizontally and vertically. This is tied into concrete blocks which are laid in mortar. This is where the structural stability comes into play. Then, we construct the facade which can be anything from brick to stone to stucco, etc.. Weep holes are installed at the base of the walls to allow for water to be released from behind the walls. This is true masonry and a product that will stand the test of time.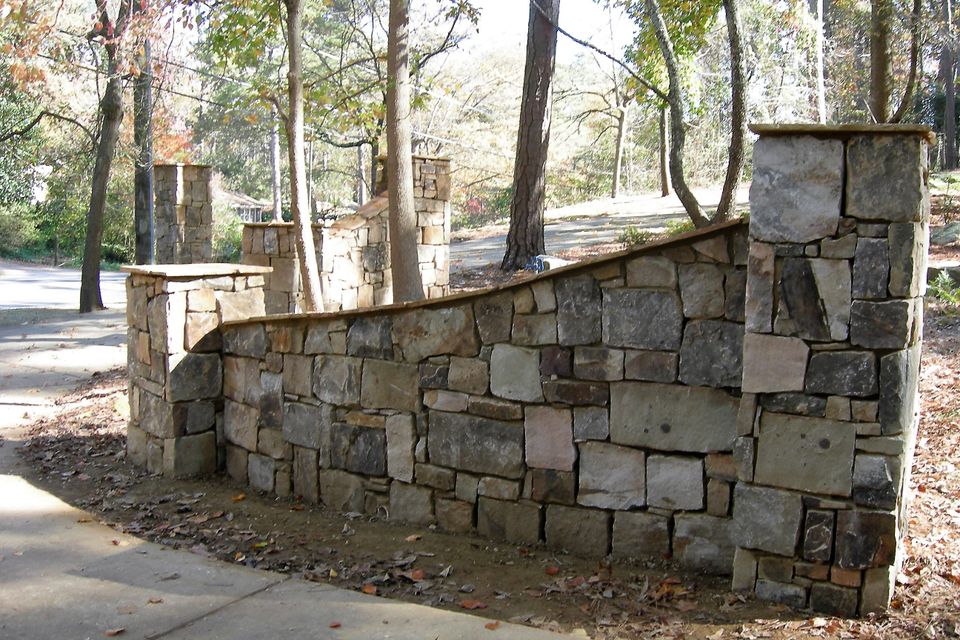 Dress up your curb appeal with columns and entranceways
If you're searching for a custom stone or brick entranceway with columns and walls, Lake Norman Hardscape will provide you with what we feel is a superior finished product using the best of materials and equipment along with master craftsmen to construct the design. We custom design and construct all of our masonry entrance ways as well as single columns and masonry walls. Our entranceways have consisted of just single entranceway columns to elaborate columns and walls even incorporating water features and fountains within. Stone, brick, wood, steel and more. Decorative entranceways and columns are a beautiful addition to your home as well as its value.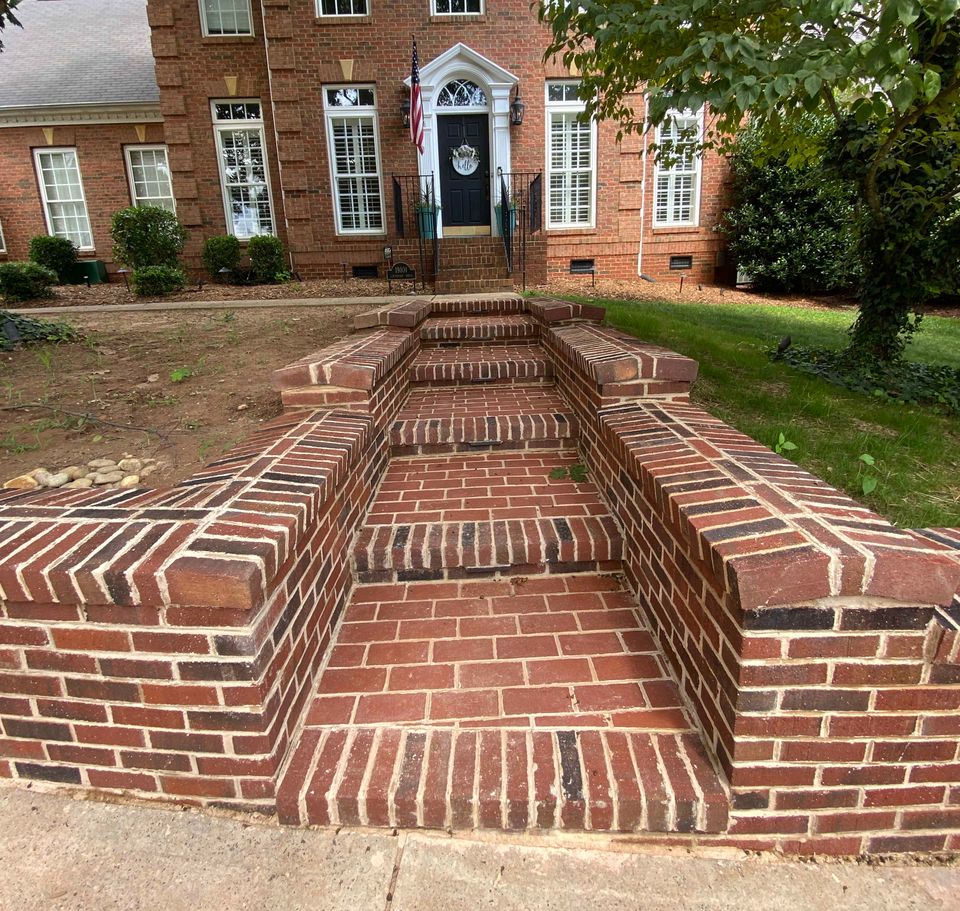 Stone & Brick Steps
We are Lake Norman's choice for artistically created custom stone and brick steps and staircases, stoops and landings. Whether you're searching for a stone masonry contractor to replace an old set of masonry steps and stoop or construct a whole new design, we will handle your project flawlessly. We have seen countless front entranceway steps and stoops, patios and stairs which have settled over the years. Usually the problem lies in the concrete footing or lack of. We will inspect the situation and give you the advice necessary to make a wise decision in building it correctly the second and final time. We always drill and dowel steel rebar into the home's foundation and pour a commercial grade concrete footing/slab. Than we will construct the new set of steps, stairs and stoop according to a new design or a replication of the existing structure. Our Steps and staircases can be constructed of stone or brick and will incorporate our stone artistry in our beautiful designs

.
From stone to pavers and brick, every home needs a patio!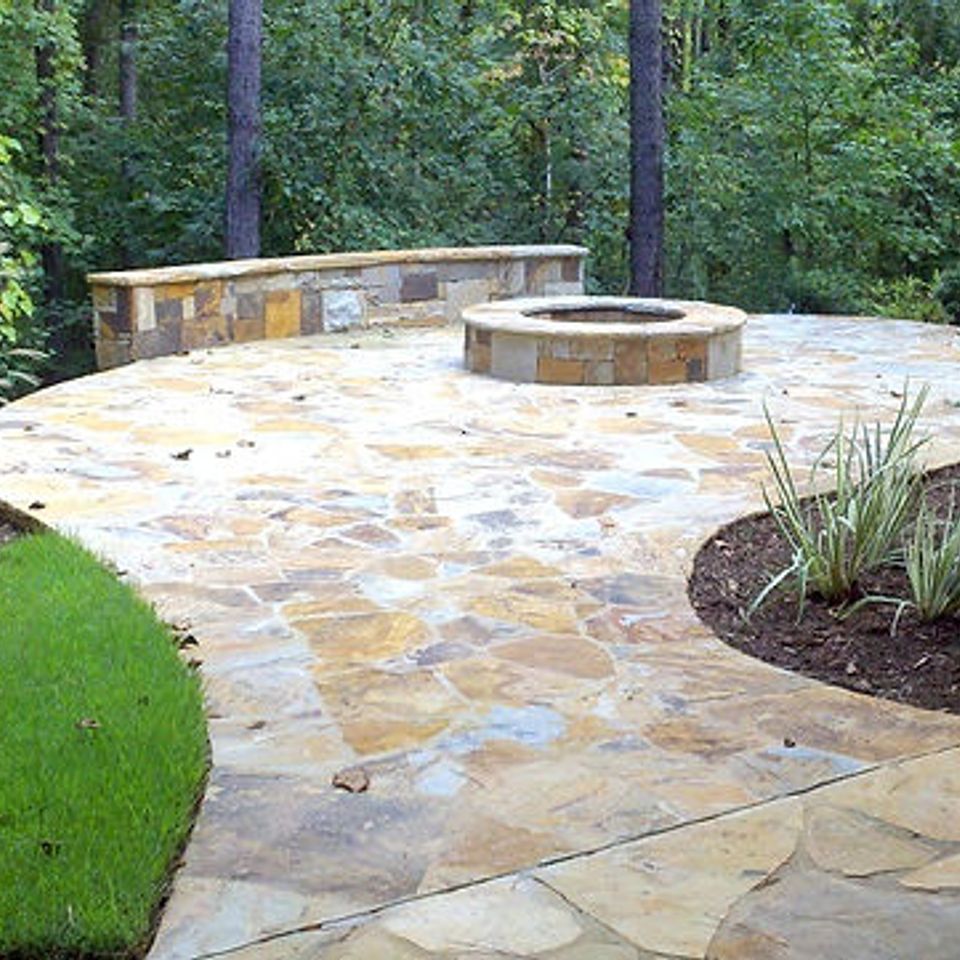 Patios are an essential aspect of any hardscape, stonescape and landscape project. We at Lake Norman Hardscapes have created an amazing portfolio of patios for our clients, making these an integral part to the complete project. Our patios have ranged from small to extremely large with the use of concrete, stone, flagstone, brick, pavers, travertine and slate. Custom designed and constructed at times even leading to a new wood deck or elevated patio. Swimming pool decks with custom pool coping leading off onto an oversized patio is always an added benefit for entertaining purposes.