The Great Wall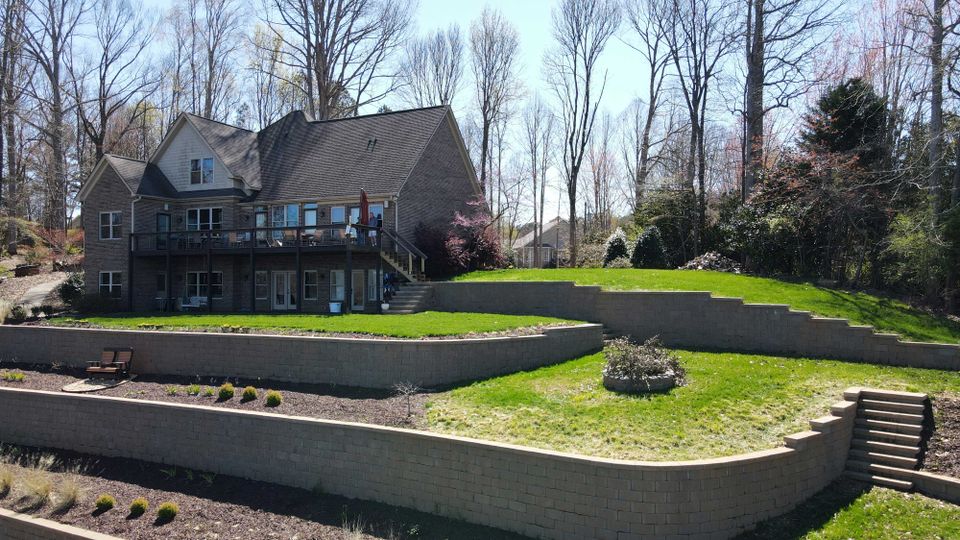 Retaining walls have been serving an essential purpose around the world for many centuries and will continue to do so for many more. If your property, whether residential or commercial is on a slope and erosion is an issue, then it's time to start thinking about a retaining wall. These walls hold back soil and will prevent erosion due to heavy rainfall and the gravitational pull over the years.  They will also allow you to level out your backyard, parking lot, etc. Retaining walls can also be very stylish and used as sitting walls, flower beds, and many other unique possibilities.

Safety is, of course, one aspect of a retaining wall, but there are many other functions as well. The creative minds at Lake Norman Hardscapes can show you the many styles and benefits of adding a retaining wall to your property while increasing the overall look, increasing its property value, and adding to your usable square footage.
 
Retaining Wall Uses
Since it's your property, you get to decide what purpose your retaining wall serves. Most people install retaining walls for one of two reasons.
Preventing Erosion: An unrestrained slope can cause problems on your property over time. A good retaining wall can keep the soil in place, preventing erosion from damaging your home or driveway.
Privacy: Adding a retaining wall can increase privacy and security while adding beauty and appeal to your landscape.
Common Wall Types
The type of wall you install depends on a number of factors, including the slope of the soil on your property. Here are two types of retaining walls to consider.
Gravity Walls: Gravity walls typically have large bases, and rely on their mass to keep soil at bay. These walls can be made of segmented retaining wall blocks, stone or concrete.
Reinforced Segmented Retaining Walls: When installing these types of walls, often referred to as piling walls, Lake Norman Hardscapes uses Geo-Grid to reinforce the walls for the proper load bearings involved. This greatly increases the stability of the wall.
Retaining Wall Materials
When planning your retaining wall project, you and your hardscape designer will need to settle on a material. Stone and concrete are easily the most popular.
Stone: It's hard to beat the strength and natural beauty of stone. If you're going for a rustic, natural look, stone is the material for you.
Concrete: In many ways, concrete is a more practical material. Its porous nature makes it easier for moisture to go through, thus reducing pressure on the wall.
Though simple in concept, these walls are not easy to install and should be installed by an experienced professional with proper credentials and certification. To ensure that your retaining wall looks and performs the way you want it to, let the team at Lake Norman Hardscapes lend a helping hand. Our experience is what you want and need. We will gladly lend our talents to your property.

Call today for a free estimate!